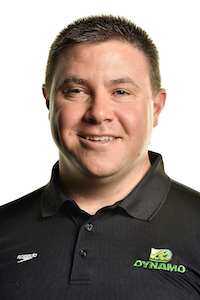 Ian Murray
Head Coach
Ian has served as Dynamo's Head Coach since August of 2017 and has over 20 years of coaching experience. As Head Coach, Ian oversees all aspects of Dynamo Swim Club's competitive programs, including our nationally recognized competitive team, Dynamo Juniors, Dynamo Masters, and Dynamo Age Group Multisport. He coaches Senior 1, working directly with athletes at both the Alpharetta and Chamblee locations. Ian is a dynamic leader for our organization and works tirelessly to lead Dynamo to be a model club in Georgia, the southeast, and nationally.
During his time at Dynamo, Coach Murray played a significant role in the guidance and development of Olympic Gold Medalist and NCAA Champion, Brooks Curry. In addition, he has developed multiple National Junior Team Members and served on the staff of two USA Swimming Junior National team trips; the 2019 Mel Zajac International and the 2019 FINA Junior World Championships. He has also guided Dynamo to team titles at the USA Swimming Futures Championships and Speedo Junior Nationals.
Ian previously served as Associate Head Coach of Carmel Swim Club in Carmel, Indiana. During his time at Carmel, Ian coached a Junior World Record Holder, a USA Swimming National Champion, and multiple Junior National Champions. His swimmers have set multiple USA Swimming National Age Group Records.  Coach Murray served on the coaching staff of the 2016 USA Swimming College Challenge, and he has been Head Coach for both the USA Swimming National and Zone Select Camps. The American Swim Coaches Association has named Ian a Coach of Excellence. In addition to his responsibilities with Carmel Swim Club, Ian was an assistant coach on the Carmel High School swim team, where the girls' team had won 31 consecutive Indiana High School State Swimming Championships, a national record for all sports. He also served as Carmel's Head Age Group Coach from 2006-2013 and was recognized by his peers as Indiana Swimming Age Group Coach of the Year.
Prior to Carmel, Ian coached on the staff of the Lake Erie Silver Dolphins in suburban Cleveland, Ohio, where he was an Age Group and Senior Coach. While at Lake Erie, Ian worked with multiple members of the USA Swimming National Team, including an Olympic gold medalist. He was named the Lake Erie Swimming Age Group Coach of the Year and served on the staff of the Richard Quick/Stanford National Swim Camp. Coach Murray was Head Coach of the 2003 Ohio Mid-States Team and the 2004 Lake Erie Zone Team.
Additionally, Ian worked as a Volunteer Assistant Coach for the Cleveland State University swim team from 2000-2001.  He was a standout swimmer at Cleveland State from 1996-2000.   As a college swimmer, Ian was a conference champion, school and conference record holder, and team captain.
Ian and his wife Jennifer are the proud parents of two children, Arran and Ainsley.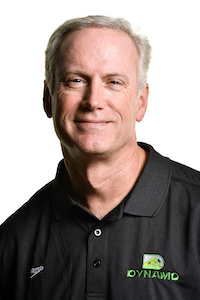 Mike Cotter
Chief Executive Officer
Mike has served Dynamo for over 30 years and has been a key leader in the organization's development, helping Dynamo grow from the original Chamblee location to multiple sites and facilities. During his tenure, he has led the original construction and then the expansion of the Alpharetta facility, installment of the dome over Chamblee's 50m pool, and the recent Chamblee facility expansion and renovation.
His long involvement with Dynamo has been a key factor in the organization's overall success and he has been instrumental in the startup and continued success of Dynamo Pool Management, Inc.  Mike and his wife Michelle are the parents of two children.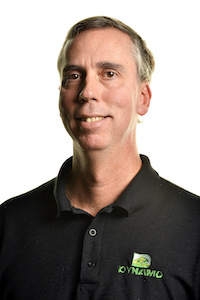 C. Brian Wrighton
Associate Head Coach
Brian joined the Dynamo staff in October of 2014.  As Associate Head Coach, he is the site director at our Alpharetta location and leads the Senior 1 group.  Brian also handles competitive team billing for the organization. In recent years, his athletes have excelled at the USA Swimming Futures Championships, Junior National Championships, and National Championships, including an 2021 Wave 1 Olympic Trial Champion. Under his guidance, our teams have won championships at the USA Swimming Futures Championships and Speedo Junior National Championships.
Coach Wrighton has more over 25 years of coaching experience at all levels of competitive swimming.  Most recently, Brian was the Head Coach and Program Director for the Birmingham Swim League in Birmingham, Alabama.  During his time at BSL, Brian developed many Junior National/National/Olympic Trial level athletes, many of whom swam to National Top 10 rankings.  With Brian at the helm, BSL grew from 150 to over 200 athletes.
Prior to his stint as Head Coach at BSL, Brian spent nine years as the Head Age Group and Masters Coach for BSL.  His athletes turned in several National Top 10 rankings (age group and masters), broke numerous Southeastern Swimming records, and he had one relay break a National Age Group Record.  Brian was also highly involved with Southeastern Swimming LSC, serving as its Age Group Chair, Administrative Vice-Chair, and Laws and Legislation Chair.
Brian is originally from Louisiana and swam at the University of Alabama, graduating with degrees in Elementary Education and Early Childhood Education.  He and his wife Suzanne are the proud parents of two children, Brian Jr., and Bonnie.